Cross Winds:
Adventure AND ENTERPRENEURSHIP IN THE Russian far east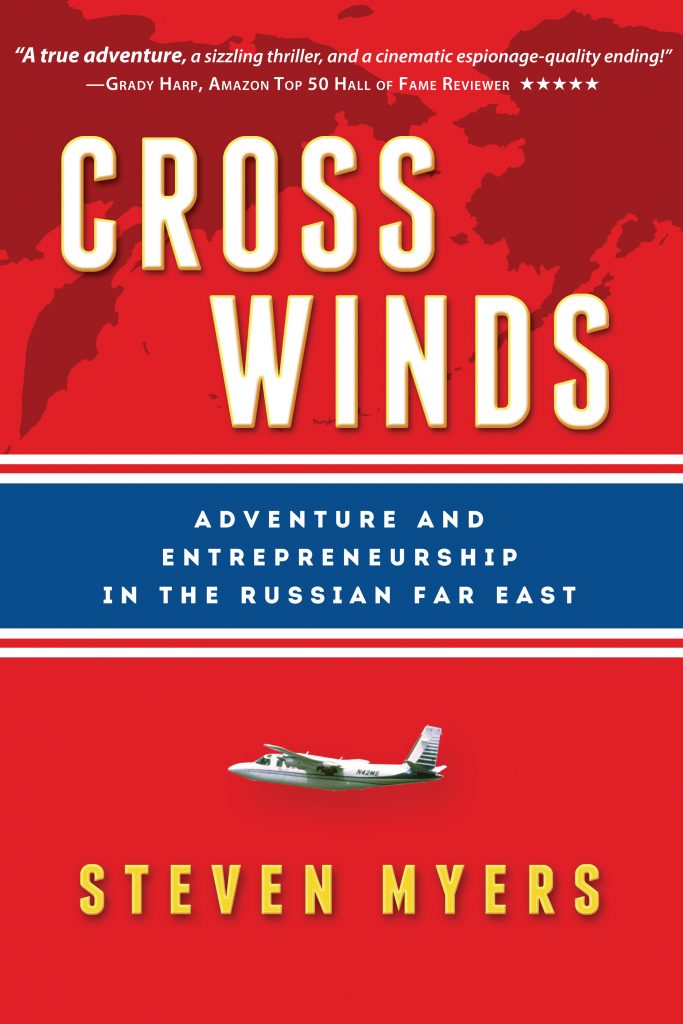 In 1992, at the end of the Cold War, Steven Myers became the first American since Charles Lindbergh in 1931, to pilot an aircraft into the Russian Kamchatka peninsula. There he formed one of the first post-Soviet era joint ventures—a pioneering, expansive, business enterprise with the potential to transform the lives of the people of the Russian Far East. 
Steven's remarkable true story recounts the dramatic adventure, courageous entrepreneurship, and intrigue in the creation of a breakthrough business in a remote corner of the world, a wondrous place few people have been to or know anything about.
The underlying theme of the story is the clash of two vastly different cultures: Americans, with go-for-broke, entrepreneurial "can do" attitudes, and Russians with a long, painful history of constraining rules, risk aversion, and fear. 
After years of hard work, just as the enterprise is about to achieve breakthrough success, an unexpected warning by US government agents alerts Myers that his life is in danger if he continues with his business activities in Russia. How he reacts, and what he does next, provides a gripping, dramatic climax to the story. 
A timeless exploration of human conflict, determination, and power, this book will inspire adventurers, aviators, entrepreneurs, business leaders, politicians, and diplomats to push past their fears and take command of their dreams. After all, "the cornerstone of courage is optimism."
"'The chances are high that you won't survive.' I love this story! Fasten your seatbelt for a wild ride!"
David Alan Arnold 
Helicopter / Cameraman / Deadliest CatchBering Sea Gold / SURVIVOR
"CROSSWINDS tells the true, high-flying, epic adventure story of discovery and courage. I couldn't put the book down."
John Kelly
Detroit Free Press
       "The strong writing skills of the author brings a sense of credible immediacy to this true saga the clash of two vastly different cultures – American and Russian. The added espionage and intrigue becomes cinematic! This book is an immediate fixture in the genre of Russo-American relations. Very highly recommended!"
Grady Harp
Amazon Top 50 Hall of Fame Reviewer
"Steven Myers took my breath away with his tale of flying an airplane into Russia after the Cold War. Being only the second person to do so, his exceptional experiences make for an intriguing read."
Kimberly Love
Author
You Taste Like Whiskey and Sunshine
"Planes, Russians, Vodka… what could go wrong! Steve Myers account of his entrepreneurial and aviation jaunt in Kamchatka underscore the saying, 'There's no easy way to make a buck in Russia."
Mike Ball
Erma Bombeck Award-Winning Author
"Steven Meyer's ability to face adversity with courage while discovering his inner strength led him to go on to live a remarkable life, making him the man he is today. Highly recommended!!" 
Susan Keefe
Midwest Book Review
"A breathtaking ride into the remote Russian Kamchatka peninsula, and the clash of two cultures in a riveting exploration of entrepreneurship at its riskiest. This book will transform the way you think."  
Pamela Gossiaux
International Bestselling Author of Ordinary Girl
"A business treatise and study of entrepreneurship. An adventure story. A geopolitical analysis. Steve Myers' book is all these and more. Replete with characters straight out of central casting. Heroes and villains, exotic locations, courage and daring, this book is certain to capture the imagination of readers as diverse as the characters that dot the landscape of this captivating, informative, and highly memorable tale–and every word is true!"
Dr. Jerry Green
President & CEO, The Pacific Council on International Policy
"Steve Myers has imagined the unbelievable, achieved the unthinkable and built a business that was unstoppable–until the Russian mob intervened to give him the story of a lifetime. That he returned to share his adventure and illuminate the path for future explorers and entrepreneurs is a gift to us all."
Dr. Rachel Kleinfeld
Former President & CEO, Truman National Security Project
"Steve Myers illustrates the vision, courage and determination needed to achieve truly remarkable accomplishments–and takes the reader along for a very exciting ride."
Gregory Brown, MD
CEO, Memgen Biosciences, Inc